The Sims 2: Adding Downloads To Your Game
This topic contains 4 parts. Parts 1 and 2 are instructions for installing the 2 different file types for The Sims 2 custom content, it also contains instructions for the 2 additional things you need to do if you have never used custom content before (3. Enabling custom content in your game, and 4. Installing the CEP files)
Sims 2 File Types
There are 2 different types of custom content files for The Sims 2 that we have here at Parsimonious:

package - usually furniture, walls, floors, terrains, clothing, genetics, make-up
sims2pack - usually houses, other sites may have complete Sims in a sims2pack
Sims2packs need to be installed differently from a package file, they must be executed/run rather than placed in the game's Downloads folder.
Please be aware that you should only be putting download files into your local content game folders - you are looking for a folder called EA Games located in your User folder or your My Documents directory.

You should NOT EVER be put downloads anywhere near your Program Files game folders unless the instructions for an item specifically tell you to
1. Installing Package Files
After unzipping the files you download put the package files into the game Downloads folder. Once they are in this folder you do not need to do anything else to them - just leave them alone!
Users\(Your Name)\My Documents\EA Games\The Sims 2\Downloads
Users\(Your Name)\My Documents\EA Games\The Sims 2\SavedSims
If you do not have either of these folders just create them!
Please note that some users find that fashion files do not show up in the default 'Downloads' folder. If this happens to you then try putting them in the folder named SavedSims instead. Fashion items also cannot be read by the game if they are placed in subfolders unlike all other package files.
If you get this error it is because you have tried to 'install' a package file by double clicking on it. This causes the game sims2pack installer to pop-up the following error message.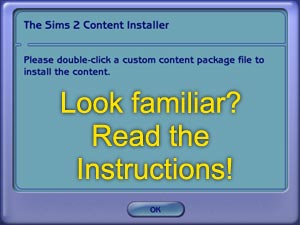 So long as your package files are put in the right place, you can leave them alone.
2. Installing Sims2pack Files
After unzipping sims2pack files must be 'run' by double clicking on them. This will cause the game installer to handle them, putting the contents of the sims2pack file into your game for you. Follow the on-screen instructions and repeat for each sims2pack file.
There is, however, a problem with letting the game installer do this...
It does a really terrible job of dealing with any content in the sims2pack which is already in your game. Instead of just skipping any existing files, it'll create a new copy with a nonsense filename (making it hard to identify). Sometimes these copies are not even properly working, little bits can get lost along the way.
Don't worry, there is an alternative which is a little community made program called the Clean Pack Installer. It is a bit more technical, but it'll let you be in charge of your content and it's really easy to use once you know how!

Related Links:
If you are a house builder who likes to share your lots then it is important to be aware of this as the game often prefers to use these copies instead of the real thing! If you use a broken junk copy in a house and then export that house for sharing, it's the copy that gets included, not the original!
3. Enabling Custom Content
If you are using custom content for the first time in The Sims 2, have recently reinstalled your game, or have added a new Expansion or Stuff Pack then you will need to enable custom content:
Users with Nightlife or any later Expansion Pack
Run your game. When the Custom Content Dialog Box shown below appears, click the 'Enable Custom Content' Option shown
Exit and RESTART your game
When you start your game again, custom content should be enabled

It doesn't matter whether or not you want the dialog box displayed & will not affect whether or not custom content will work in your game, so you can turn it off, but still have your content enabled.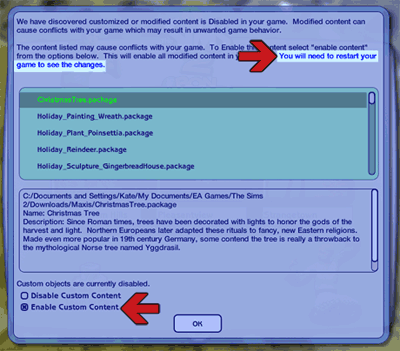 This method should also apply with newer Stuff Packs and any Deluxe or Double Deluxe version, however if you have never had that box popping up when you start the game then please use the method below.

Users with The Sims 2 + University, or Sims 2 Only
Run your game. Enter any neighbourhood
On the corner options panel, choose the game options Tab (...). Choose the game options and look for the options shown in the picture below.
Change your settings so that Custom Content IS ENABLED*
Exit and RESTART your game
When you start your game again, custom content should be enabled)
4. Install The CEP
You need to download this package if you want to use custom objects. You will need to reinstall it every time you reinstall The Sims 2 or add a new Expansion or Stuff Pack.
Please download one of the files below and unzip it. The Auto Installer version can be run by double clicking on the extracted file and following the on-screen instructions. The manual version comes with documentation, please read and follow the instructions included in the zip:
For technical information for this package please visit the official ModTheSims CEP Thread:
You should be aware that Parsimonious did NOT create these files, they were created by Numenor & RGiles at Mod The Sims. Sadly both creators have retired from The Sims 2 community, so there is no longer any active support available for these files (in fact the official URL we are supposed to give you no longer exists!).
If It All Goes Wrong...
If you are stuck on one of the steps, not sure how to download or have problems getting your custom content to work then please try the following links: